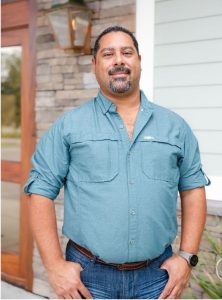 Dr. Richard Cordero has been practicing in Fairhope and surrounding areas since November of 2017. He received his undergraduate degree from the University of Puerto Rico-Mayaguez and later graduated from the University of Puerto Rico — College of Dentistry, San Juan, Puerto Rico, in 2005. Following his residency, Dr. Cordero moved to Vermont for five years before opening our current office to be closer to his extended family.
Dr. Cordero has received the following advanced training:
Medical Degree, 2009, University of Florida in Gainesville, Florida
Oral and Maxillofacial Surgery (OMFS) Internship, 7/2005 – 6/2006
Oral and Maxillofacial Surgery (OMFS) Residency, 7/2006 – 6/2012
He is a member of:
The American Dental Association®
The Alabama Dental Association
The American Association of Oral and Maxillofacial Surgeons
The American Board of Oral and Maxillofacial Surgery
Dr. Cordero's goal as a practitioner is to give patients the best care possible by always putting his patients' health first.
He is married to Telka Barberi, DMD, who is a dentist in Daphne, and they have three stepdaughters and four grandchildren. When not transforming lives, Dr. Cordero enjoys fishing, hunting, target shooting, traveling and basking in his love of the outdoors. He is fluent in both English and Spanish.
Meet Our Team
Dr. Richard Cordero is honored to present our fantastic dental team! Caring and personable, our team of dental professionals provides a knowledgeable base for our patients and makes patient education a priority at Eastern Shore Oral, Facial and Implant Surgery Center. For your convenience, we also have team members who speak Spanish. Interested in learning more about our treatment options for oral surgery in Fairhope, Alabama? Please call us at 251-333-1700 and schedule a visit with our friendly dentist.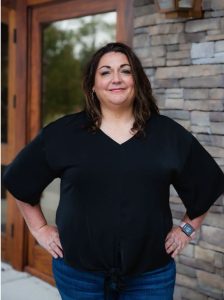 Denise joined our office in April of 2019. She got into the medical field to help make a difference in others' lives. Working at our practice has really allowed her to expand her knowledge and help patients feel better. She loves how we work as a team and therefore give our patients the best care available. We are a family and treat our patients as such. Denise is a team player! She is here for her co-workers to lean on when needed and always brings a positive attitude and outlook.
Denise is originally from Colorado but has been in the South since 2000. She is married, has two children, three adorable grandsons, a granddaughter on the way and two fur babies. When not at the office, she loves to travel, attend concerts, read, do arts and crafts, and spend time with family and friends.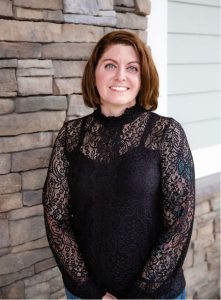 Sarah W.
Insurance Coordinator
Sarah became a part of our office in June of 2022. She loves her job because everyone works together and we are dedicated to the patients' overall care. She is eager to help in any way necessary to accomplish our goals and create a positive environment for our patients.
Sarah has been married to her husband, Brandyn, for five years, and together, they have a wonderful daughter. She loves to bake, read a good book, and outdoor activities such as hiking, biking and camping. Fall is her favorite season because football is on!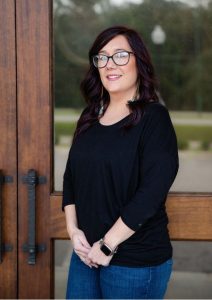 Carrie
Implant Treatment Coordinator
Carrie joined us in May of 2021. She graduated from the coding certificate program from the American Academy of Oral Maxillofacial Surgery and loves the fact that we are all like a family at our office. She makes sure she does the best she can to get our patients in as soon as possible so patients experience minimal discomfort.
In her free time, Carrie loves photography, going to concerts and traveling.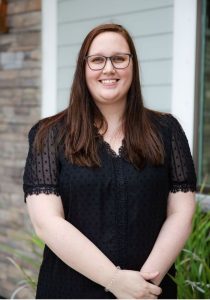 Sarah C.
Licensed Practical Nurse/Oral Surgery Assistant
We were happy to have Sarah join us in February of 2022! She attended Rasmussen University and graduated from as a licensed practical nurse (LPN). She loves working with co-workers who treat you like family and make it a fun atmosphere. She is thrilled to contribute to our office by maintaining excellent teamwork and satisfying our patients' needs. Sarah prides herself in trying to ease our patients' fears and making them feel comfortable. She will even turn Netflix on for you!
Sarah has been married for six years and has two daughters, a dog, and a cat. She loves doing outdoor activities and helping her husband work on his vehicles. They also love to do auto cross at different tracks.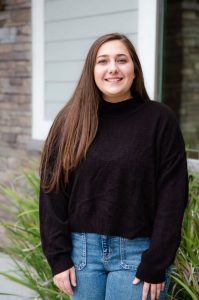 Taylor
Oral Surgery Assistant
We are thrilled to have had Taylor as part of our team since October of 2020! She graduated from the Fortis College dental assisting program and loves the people she gets to work with and the opportunities to expand her knowledge in the field with her patients. She contributes greatly by working hard and taking every chance she can to learn something new.
Taylor is the baby of five children! She loves her parents, brothers, sister and nephew, and she has a great boyfriend and fur baby. Her hobbies include traveling, trying new foods and watching movies.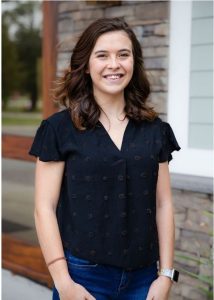 Abbie
Oral Surgery Assistant
Abbie has been a part of our practice since August of 2022. She received her degree as a medical assistant and loves the teamwork and sense of community we have at our office. Abbie contributes to our success by being a reliable team player and bringing a positive attitude.
Abbie is the middle child of five and she has one sister and three bothers! In her free time, she enjoys painting, reading, being outdoors and traveling. She also loves the Alabama Crimson Tide. Roll Tide!